Installation views of exhibitions (1995 - 2007)
QuickTime movie, in reverse chronological order. Most recent exhibitions shown first.

Still images provide an overview of the project.
---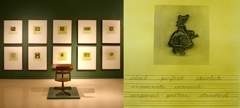 Exhibition at the John Michael Kohler Art Center (2006)
QuickTime movie & still images.

---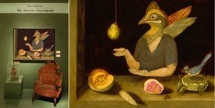 The Alternate Encyclopedia Project (chronological)
QuickTime movie. Chronological documentation of The Alternate Encyclopedia and related projects including The Museum of the American Philosophical Society, Swarthmore College and the Maier Museum of Art. 1995 - 2007.
---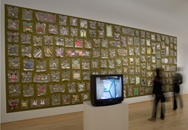 Suspended Animation (video project)
Video that accompanies objects of the New Art Preservation Project. Click here for excerpt.
---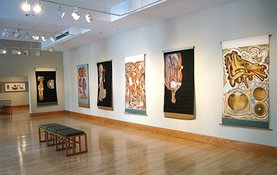 The Abstractions
The "Abstractions" appropriate original anatomy charts as the surface for new painted images (2005-07)
---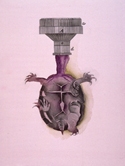 Gouache Paintings
Paintings on paper from 1995-2002 included in The Alternate Encyclopedia project.
---
---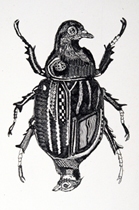 Evolutionary Paths
Suite of 15 copper plate etchings. Black ink on Arches Cover Buff. 8" x 5" each. Edition of 20. (1991)
---

Birds Commonly Mistaken for Other Things
Suite of 8 copper plate intaglio prints. 8"x 5" each image. Edition of 20. Also available as a limited edition accordion format book.