Solo exhibition,: Showroom: Hall of Portraits from The History of Machines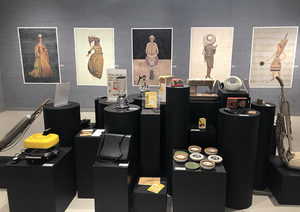 Cecelia Coker Bell Gallery, Coker University
Hartsville, SC
September 19 – October 14, 2022
---
Solo exhibition @ 3S Artspace, Portsmouth, NH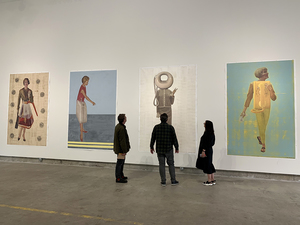 June 3 – July 31, 2022
Hall of Portraits from The History of Machines
3S Artspace, Portsmouth, NH
Solo exhibition includes nine of the monumental works from this project plus archival source materials.
Public Opening & Meet The Artist: Friday, June 3, 5-8pm
---
Creative Research Practices exhibition @ Stevenson University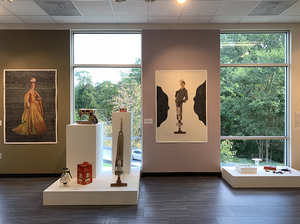 Creative Research Practices: Sue Johnson, Ebony Kenney and Johan Lowie on view at Stevenson University, Owings Mills, Maryland, from September 20 – November 12, 2021. Johnson shows seven works from "Hall of Portraits from The History of Machines," with new works not shown previously. The exhibition is curated by Lori Rubeling, Professor of Art and Communication Design at Stevenson University. Kevin Manning Academic Center, Stevenson University North Campus, 2nd floor.
---
Video documentary: Sam and Adele Golden Foundation Residency, Made in Paint exhibition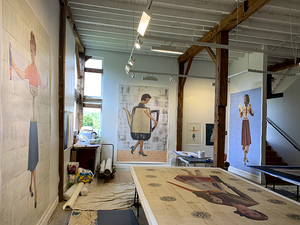 Watch on YouTube: Made in Paint exhibition short documentary (4 mins)
Narrated by Mark Golden (Sam and Adele Golden Artist residency and Golden Artist Colors), this video shows the Made in Paint exhibition in the Sam and Adele Golden Gallery plus views of residency that I was awarded in summer 2019 along with my two fellow artists, Siobhan McBride and Kate Stewart. Mark discusses the monumental scale work I developed while @ Golden for Hall of Portraits from The History of Machines. Thank you to everyone @ Golden - they custom-made enormous tables for me to work on & I learned so many "secrets" about refining my use using acrylics, oils and watercolors.
Videographer: Lukas Korver
---
Amplify at the Virginia Museum of Contemporary Art opens July 17, 2021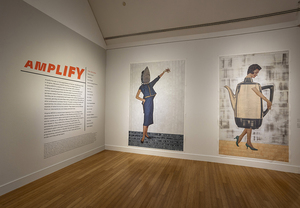 amplify
JULY 17 - OCTOBER 24, 2021
Amplify focuses on the experiences of woman-identifying artists in Virginia, Maryland, North Carolina, and Washington, D.C. Virginia MOCA curators have connected with curatorial colleagues and asked them to share their recommendations of woman-identifying artists who are exploring identity and the gendered roles of women. Constructs regarding a woman's identity can be complicated and loaded with political agendas and nuances; yet they are also fascinating, beautiful, and filled with joy when embraced in all their forms. Through a variety of media and approaches, the artists in Amplify explore some of the many aspects of what it is to be a woman. They reveal common themes from an intersectional, and deeply personal lens.
Organized by the Virginia Museum of Contemporary Art, Virginia Beach, VA. Curated by Alison Byrne, Deputy Director, Exhibitions and Education, & Heather Hakimzadeh, Curator.

---
New Work from Hall of Portraits from The History of Machines at Workhouse Art Center (Lorton, VA) March 20 - June 6, 2021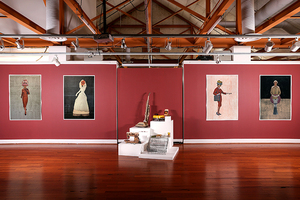 Workhouse Arts Center (Lorton, VA) presents New Works from Hall of Portraits from The History of Machines by Sue Johnson. The exhibition is guest curated by Jaynelle Hazard, presented in partnership with the Lucy Burns Museum, and will be on view in the McGuire-Woods Gallery from March 20 through June 6, 2021. The gallery is open Saturday and Sundays 12:00-5:00pm (under Virginia COVID-19 Phase Forward II)

"Mining the archive is like building a time machine; I look at the material culture of the past as a way of understanding what has come into being in our contemporary times." – Sue Johnson
A recording of the Artist Talk is posted to the Workhouse Fb page:
---
Review, The Washington Post, Hall of Portraits from The History of Machines (click here to read)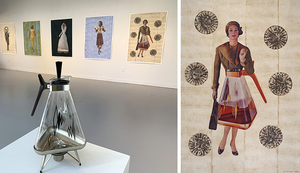 [excerpt of review by Mark Jenkins, Dec. 25, 2020]
"The creatures in Sue Johnson's "Hall of Portraits From the History of Machines" are more than the sum of their parts. But the parts are pretty great — sleek, stylish and erotic, if in an airbrushed, antiseptic way.
Central to Johnson's VisArts show are satirical paintings of mid-20th-century American women and the home and office products designed for their use. The impeccably clad and coifed housewives and secretaries don't simply employ the steam irons, sewing machines and other devices — they actually meld with them. One subject has a coffee pot for a torso, and another traded her hips and thighs for a hard-sided suitcase. A blonde, with a coy expression and demonstrating plastic wrap, flaunts the ultimate wasp waist: the stem of a glass goblet."
Paste this link into your browser for PDF of full review:

http://media.icompendium.com/suejohns_MarkJenkins-Review-In-the-galleries-Dec-25-2020.pdf