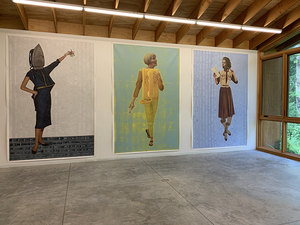 Hall of Portraits from The History of Machines (2016-19)
"Hall of Portraits from The History of Machines" proposes an alternate pictorial history that imagines the cultural evolution of the modern female form as conjoined with objects of domestic convenience, efficiency, and planned obsolescence. The project looks back to the mid-20th century and identifies this era as a cornerstone in the construction of the modern woman, who, begins at this time to be idealized as sharing attributes with laboring-saving domestic appliances and gadgets. The color fields surrounding each 'mechanical bride' are either squeegeed across like one might clean a window pane or inscribed with patterns made by other quotidian household objects. These painted veils figure the imprints of now anonymously-authored needlework, single-use paper towels and coffee filters, and the repeating patterns left by decorative tools that render fictional wood-grain. Each larger-than-life portrait measures 109.25 inches tall, which is the exact height of Marcel Duchamp's "The Bride Stripped Bare By Her Bachelors, Even". By placing this project in conversation with Duchamp, I am inviting a deeper look at the taxonomy of female representation.
---

Ready-Made Dream (2018)
Ridderhof Martin Gallery, University of Mary Washington, Fredericksburg, VA
October 25 - Dec 2, 2018

The disquietude of objects becomes narrative and symbolic in the Ready-Made Dream project, which constructs a larger-than-life contemporary vanitas. Through the juxtaposition of objects of desire, a hyperreal, Kodachrome view of mid-20th century consumer culture emerges in our collective rearview mirror, fragment by accumulated fragment. The analog and digital are combined in a shallow, trompe l'oeil space in which hand-painted passages merge with the 'broken brushstrokes' of the pixelated image. This installation work, and the artist book-in-a-box that re-presents the project in miniature, embraces the history of still life painting, draws on bedrock art historical images, ideas, and modes that include Marcel Duchamp's readymades and Constantin Brancusi's Endless Column while also picturing a familiar domestic universe of abundance, convenience and planned obsolescence found in advertising images. This tenuous illusion of the real is further ruptured by the inclusion of found objects that thrust out into the spectator's space. Unplugged and silent, vintage telephones perch in the interspaces between pictorial illusions. In the new synthetic image-space that is Ready-Made Dream, simultaneously contemporary, historical and a fiction, the transitory nature of life is presented as a contemplative experience - and like all vanitas images, delivers a cautionary tale.
---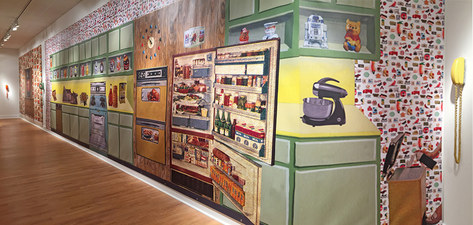 Home of Future Things, University of Memphis (2016)
Home of Future Things - Ready-Made Dream
2016

Prints on vinyl with floor decals and found objects (mid-century telephones)
Wall panels are 9 feet tall by various dimensions from 9 - 33 feet long.

Installation at the Martha and Robert Fogelman Galleries of Contemporary Art at The University of Memphis, Memphis, TN. Curated by Patricia Lee Daigle.
---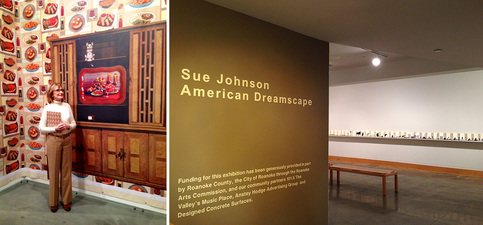 American Dreamscape (2013-2016)
American Dreamscape investigates the material culture of the post-World War II American Dream, especially as expressed in designs for the ideal home, and in particular, the post-WWII suburban, single-family home. Utilizing the traditions of vanitas and trompe l'oeil, Johnson endows the iconography of consumerism with deep and overlapping layers of meaning. The overall exhibition that spans three galleries, rather than presenting itself as an abstract ideal like the American Dream, can be contemplated as an object - like a landscape of things.

Curated by Amy. G. Moorefield, American Dreamscape was developed and first exhibited at the Eleanor D. Wilson Museum, Hollins University (2013). The first iteration of the large-scale installation that is Ready-Made Dream which was part of the overall American Dreamscape project. This work has continued to evolve and develop with new elements and in new configurations. This project has been subsequently shown at the Walton Art Center, Fayetteville, AK (2015) curated by Andrea Packard, and the Martha and Robert Fogelman Galleries of Contemporary art at The University of Memphis (2016) in a larger exhibition titled "Home of Future Things" curated by Patricia Lee Daigle. In October 2018 a new iteration of Ready-Made Dream appeared at the Ridderhof Martin Gallery at the University of Mary Washington.
---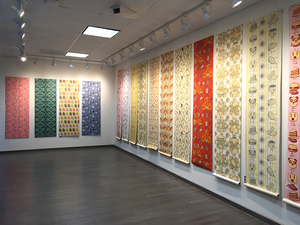 Sample Worlds - The Wallpapers
Sample Worlds. New wallpaper designs printed on recycled wallpapers. Repeat patterns are constructed from rebus images that, once puzzled out, encourage contemplation of the natural and artificial worlds. Wallpapers will be used to create an installation project that simulates a retail showroom for viewing and choosing wallpapers for the home and office.

Unique silkscreen wallpapers were created during a residency at the Frans Masereel Centrum, Kasterlee, Belgium in January-February 2014.

https://fransmasereelcentrum.be/en/residency/sue-johnson/
---

Collecting Patterns, Salisbury and South Wiltshire Museum, Salisbury, England (2013-14)
"Sue Johnson and General Pitt-Rivers: Collecting Patterns - The curious response of a 21st century artist to a 19th century archaeologist"
1 February - 10 May, 2014
Salisbury and South Wiltshire Museum

For the first time, this exhibition draws together a comprehensive selection of the two series of work Johnson created for the Pitt Rivers Museum in Oxford in response to the illustrations in Pitt-Rivers' 'second collection' manuscript catalogue. It then goes on to show new work inspired by the Pitt-Rivers Wessex Collection at the Salisbury Museum. "Armchair Archaeology: A Pitt Rivers Wallpaper Collection" are new designs that illuminate both everyday and unusual objects, drawing intriguing connections between the patterns of Pitt-Rivers' collecting practices and those found on the surfaces of the objects themselves.
---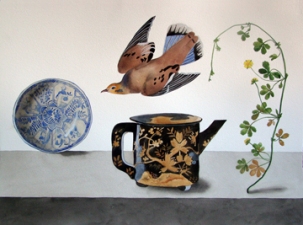 The Nature of Curious Objects: Sue Johnson's Paper Museum, Pitt Rivers Museum, Oxford, UK (2011-12)
The Nature of Curious Objects: Sue Johnson's Paper Museum
Pitt Rivers Museum, University of Oxford, Oxford, UK
24 January - 10 June 2012

http://web.prm.ox.ac.uk/rpr/index.php/article-index/12-articles/736-sue-johnsons-exhibition-2012

Exhibition catalogue, postcards and fine art reproductions of artworks in the exhibition available from the Museum Shop: http://www.prm.ox.ac.uk/shop.html
---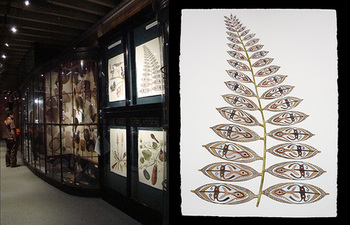 Curious Nature of Objects, Pitt Rivers Museum, Oxford, UK (2010-12)
The Curious Nature of Objects
28 January to 19 June, 2011

Pitt Rivers Museum, University of Oxford, Oxford, UK

First part of an exhibition project inspired by the pictorial catalogue of Pitt-Rivers' "second" collection held at Cambridge University Library. http://web.prm.ox.ac.uk/rpr/
---

The Alternate Encyclopedia (1991-2006)
Documentation of The Alternate Encyclopedia and related projects including exhibitions at The Museum of the American Philosophical Society, Tweed Museum of Art, McLean Project for the Arts, Virginia Center for the Creative Arts, Carleton College, Midwest Museum of Art, Emory University, Sweet Briar College, Anderson Gallery/Virginia Commonwealth University, Bucknell University, Jan Cicero Gallery, School 33 Art Center, Delaware Center for the Contemporary Arts, St. Mary's College of Maryland, John Michael Kohler Art Center, Swarthmore College and the Maier Museum of Art. Includes early prints and drawings from 1991-1995.
---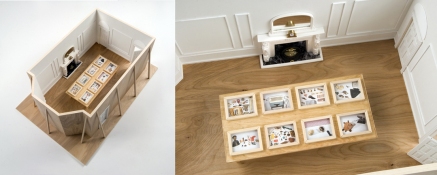 Rosenbach Museum and Library, Philadelphia, PA. (2009-10)
Moore Adventures in Wonderland
23 September 2009 - 8 June, 2010

This poetic archive and hyper-visual experience of Alice Through the Looking Glass using photography, illustration, digital collage and selected objects from the Museum's collections uncovers the unexpected connections between Lewis Carroll and 20th-century poet, Marianne Moore.
---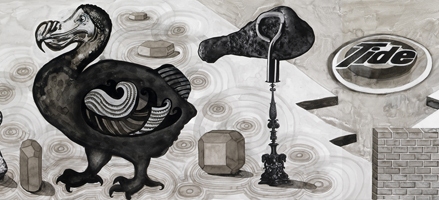 Eating Wonderland, University of Richmond Museums (2007)
Lora Robins Gallery of Art From Nature
University of Richmond Museums, Richmond, VA (2007)
Exhibition includes: New Stories From Wonderland (Life of the Dodo), Incredible Edibles (ceramic sculptures), and Episodes in a Fantastic Landscape.
---

Episodes in a Fantastic Landscape
All works are gouache hand-painting on archival pigment prints, 16" x 48"
2006-08
---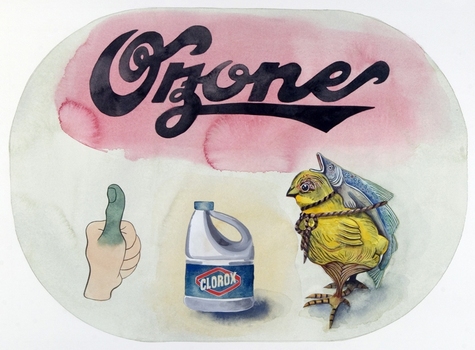 Cabinet: Raw & Cooked
Like a fantastic menagerie or bestiary, when seen together these works create a sort of "paper museum," a special collection of natural and artificial things in which the typically distinct worlds of the animate and inanimate are now conflated, compressed and fashioned into one new whole.
---

Poem Objects (2006)
Gouache paintings on handmade paper

---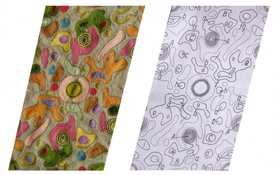 Sue Johnson at The Museum of the American Philosophical Society: A series of interventions by the artist (2005)
In a collaboration with the Museum of the American Philosophical Society, Johnson was invited to create "visual stories" for the exhibition, "Treasures Revealed: 260 Years of Collecting at the APS." Her 21st-century take on themes such as silhouettes, natural history expeditions, moon mania, and atomic bomb testing are mounted alongside artifacts on display.