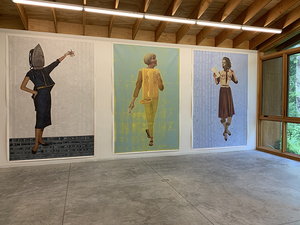 Hall of Portraits from The History of Machines (2016 - )
This project proposes an alternate pictorial history in which two objects of desire become one — the household convenience object and the emergent female form. The project looks back to the mid-20th century and identifies this era as a cornerstone in the construction of the modern woman, who, begins at this time to be idealized as sharing attributes with laboring-saving devices. These objects merge with the body, or vice-versa, from vacuum cleaners to coffee pots and telephones with extra-long cords. At their original scale, each portrait measures 109.25 inches tall, which is the exact height of Marcel Duchamp's The Bride Stripped Bare By Her Bachelors, Even (The Large Glass).

Works also exist at medium-scales (59" x 42" and 35" x 27"), and miniature (12" x 9"). SEE NEXT GALLERIES
---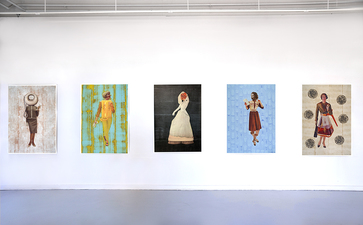 Hall of Portraits from The History of Machines (medium-scale works)
Medium-scale (59" x 42") and (35" x 27") versions from Hall of Portraits from The History of Machines.

---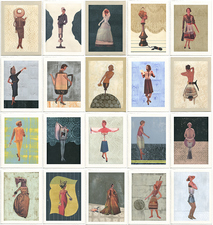 Small-scale works
12" x 9" each. Image transfer and acrylic painting on paper. Variations are both on paper and on paper that is mounted on wood panel (2020).
---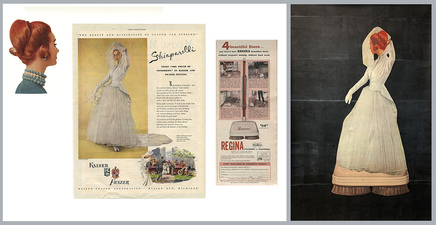 The Facsimiles from Hall of Portraits from The History of Machines
Facsimile source prints for Hall of Portraits from The History of Machines document the found objects from which the female figures are created. Sources are from mid-20th century magazines that have been scanned at high resolution from the original publication (original size relationships and left-right orientations are maintained in the prints), each fragment having been digitally manipulated, altered and re-sized to create the new images.
---

Storefront for Planned Obsolescence
Building on the history of storefronts being transformed into contemporary cabinets of curiosities. Examples include; Marcel Duchamp's window display "Lazy Hardware" created for André Breton's 1945 Le Surréalisme et la Peinture, John Cotton Dana's 1928 exhibition for the Newark Museum "Inexpensive Items of Good Design", Bonwit Teller's windows designed by Salvador Dali, a 1955 I. Miller window display designed by the collaborative team of Andy Warhol, Jasper Johns and Robert Rauschenberg, Claes Oldenburg's 'The Store', and the micro-museum installation that was the 'First International Surrealist Exhibition' in 1938 at the Galérie Beaux-Arts in Paris.