Ready-Made Dream at the Ridderhof Martin Gallery, University of Mary Washington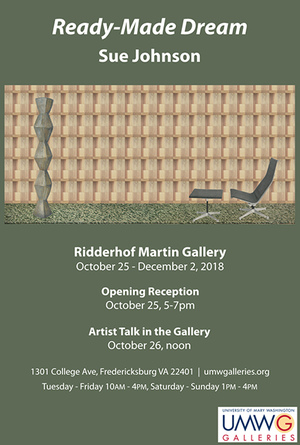 October 25 - December 2, 2018
Opening reception: Thursday, October 25. 5-7pm
Gallery talk: Friday, October 26 @ Noon in the gallery
Ridderof Martin Gallery, University of Mary Washington, Fredericksburg, VA
This solo exhibition by Sue Johnson, Ready-Made Dream, considers the cyclical nature of mass consumption. The exhibition features floor-to-ceiling vinyl panels, found objects and newly designed floor works—transforming the gallery into the interior of an ideal, modern home. Johnson's work makes various art historical allusions ranging from ancient Pompeiian mosaics and 17th-century Dutch still-life paintings to Dada and Pop collages. The artist's process intentionally blurs the boundaries between the real and the imagined, the historical and the timeless, the hand-painted and the digital. What results is an immersive environment constantly tugging at our sense of what is real (adapted from an essay by Patty Lee Daigle, University of Memphis, where the exhibition most recently appeared).
---
At the Muscarelle Museum of Art - Women With Vision: Masterworks from the Permanent Collection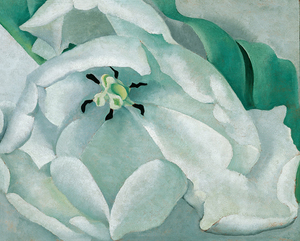 February 10 – May 13, 2018
From the press release:
Paintings, drawings, works on paper and sculptures ranging across four centuries, from 1660 to 2017, will be featured in Women with Vision: Masterworks from the Permanent Collection, opening to the public on Saturday, February 10, 2018. The selection presents works by more than thirty women artists including historically important figures such as Marguerite Gérard (1761–1837), Julia Margaret Cameron (1815–1879), Rosa Bonheur (1822–1899), and Mary Cassatt (1844–1926).
Among the numerous highlights is White Flower, a captivating close-up and large still life by Georgia O'Keeffe (1887 – 1986). White Flower, which was gifted to the College by Abby Aldrich Rockefeller (Mrs. John D. Rockefeller) in 1932, remains the most important modern painting in the Muscarelle permanent collection. O'Keeffe was given the honorary degree of Doctor of Fine Arts in 1938 from the College.
Women with Vision also offers the opportunity to see art by twentieth-century leaders including Alice Neel, Louise Nevelson, Miriam Schapiro, Cindy Sherman, and Kiki Smith while featuring works by cutting-edge contemporary artists: Carole A. Feuerman, Kay Jackson, Ana Maria Pacheco, and Tania Brassesco [and her partner Lazlo Passi Norberto] . Notable recent acquisitions include Barbara Holtz's allegorical painting Prospects, Sue Johnson's art historical reinterpretations, and Maria Larsson's innovative digital collage.